'IT'S JESUS!' RESOURCE EPISODE IJ4:4 - PASSION PARTY
Sponsorship Impact: over 25,000* children learn about events leading up to Easter; from the excitement of Jesus riding into Jerusalem to shouts of 'Hosanna', to the celebration of the shared Passover meal and to when Jesus gives a new special meaning to the bread and wine. They consider the fun and importance of celebrations shared with friends and they begin to hear of the amazing sacrifice that Jesus is soon to make.
You can choose the amount you sponsor this assembly for, here is how your donation can be used:
£30 will help inspire children through an after school club
£60 will help us deliver a whole-school assembly, inspiring to up to 420 children
£100 helps us to make this worship pack available, free of charge to mulitple churches and schoolsworkers via our website
If you have clicked above to sponsor this assembly, we will be in touch to make arrangements for sending you your certificate, framed print of the artwork and details of your sponsorship in our PowerPoint. Please see below for details...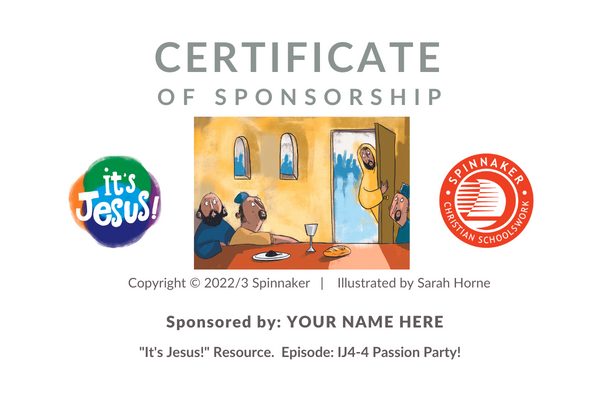 Certificate of Sponsorship
Your certificate will include your name as sponsor, outline details of the Worship Assembly you have sponsored and a small image of the accompanying illustration.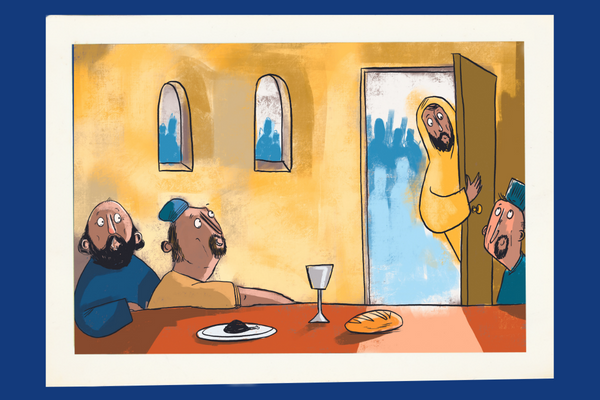 Small Framed Print of 'The Special Meal' Illustration by Sarah Horne
Approx frame size 20 x 15 cm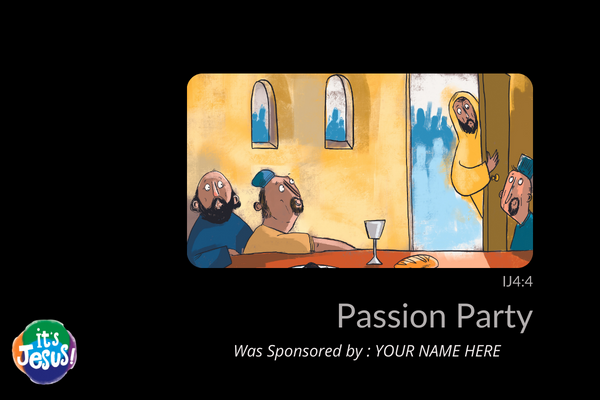 Your name on PowerPoint
If you would like, we will include your name as sponsor on the supporting PowerPoint presentation relating to the assembly you have sponsored. This PowerPoint will be available for all users of our website.
* It is estimated that at least 25,000 children will be impacted by this Worship Assembly, based on the number of schools we expect to visit within Spinnaker. An even wider impact can be expected through the 100's of downloads of these resources from our website by other schools, schoolsworkers, parents etc.